Denny Bell, Manager
Denny was raised on a farm in southeast Parke county. He was privileged to be born to Earl and Wilma Bell (Yegerlehner), two very good people and great examples for their children. Denny graduated from Van Buren High school and got a degree from Purdue in farm management. By this time his parents, Earl and Wilma, were both gone. Way too young in life. Denny managed the farm in the 80's, expanded too quickly with debt, and had to get out in the late 80's. Earl's wisdom probably would have prevented this.
He started a software company Agri-Logic Solution systems in 1988. Agri-Logic won a farm product of the year award from Farm Industry news magazine with their Instant Survey field mapping software. Agri-Logic went on to develop the first GPS software to run in a Microsoft handheld computer (pocket survey) and also developed Instant Yield maps. The first combine yield mapping software that Ag Leader and Case IH sold with their yield monitors. Denny sold Agri-Logic to FPS and Agri-Logic was later sold to Case-IH.
The yield monitor data pointed to drainage and/or water management as the number one yield factor so Denny started Soil-Max in 1997. Soil-Max made the Gold Digger tile plow which installs tile to improve farm drainage. Around 2008 Denny and his cousin, Jim Yegerlehner, started Gradient. Gradient developed an easy to use grade control system called Intellislope. Intellislope made installing tile much easier for farmers.
Denny recently sold Soil-Max and Gradient to Ag Leader and is managing TerreMax full-time.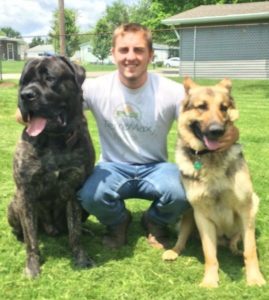 Keaton Booth, Assistant Manager
Keaton was raised in north Terre Haute by parents James and Michelle Booth. He attended Terre Haute North Vigo High School, graduated in 2014, and went on to study Safety Management and Construction Management at Indiana State University. Keaton graduated from ISU in 2018.
While in high school, Keaton began working on the farm and quickly developed a passion for the work he was doing. He continued to be a vital part of the operation for the next six years, until finally graduating college. In the summer of 2017, he took a short break from the farm to work for Bowen Engineering as a safety technician. While this experience was valuable, Keaton quickly realized that the farm was where he belonged.
Keaton looks forward to leading the farm into a long and prosperous future.